Frequently Asked Questions
Are your cannons considered firearms and do they require special permits?
These signal and saluting cannons are NOT considered firearms and do not require a firearm permit. That being said, they do produce a very loud bang and flash. So NEVER ever stand in front of cannon while firing and NEVER place anything in the barrel during firing. Anything other then the prescribed 10 gauge shells will cause the breech to blow out, which can be very dangerous.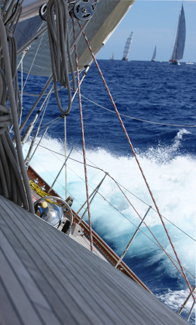 What kind of custom work do you do?
We do anything and everything from custom carriages, starting with customized woods to custom designs, to custom barrels, custom mounting options for your personal boat etc. We are a design firm and use Pro/Engineer for Product development. When we say anything we really do mean anything.
What kinds of services do you offer?
We offer restoration and cleaning services to any cannon, and not just our own, as well as customized carriages, barrels or anything else; please contact us for more information on a specific project you have, giving us all the information on what you need.
How does the cannon work?
Each cannon works slightly different and how they work depends on the specific cannon. Instructions will come with your purchase.
How do I place an order?
To place an order:
Shop our online catalog.
Use our Request a Quote form.
Call us directly at 203-283-1826. Please leave a message with all your information and we will get back to you as soon as possible.
How do I view the pricing list?
View our online catalog for pricing or contact us.
How long will it take for me to receive my order?
The time it takes to fill an order depends on the availability of materials as well as the extent of custom add-ons. Our standard time to ship an order is 4-6 weeks. If there are any delays someone from our office will be sure to let you know!
How much will shipping cost?
Shipping varies by weight and distance. Please use our shipping estimator to determine shipping costs. We do ship world wide!